Republicans have been railing against a relatively small provision in the $1.7 trillion omnibus bill unveiled on Tuesday: funds for a hiking trail named after Michelle Obama.
Lawmakers are racing to pass the sprawling package—likely the last major bill of the current Congress—before a Friday deadline or face the prospect of a partial government shutdown.
The bill, which runs for 4,155 pages, includes another large round of aid to Ukraine, $858 billion for defense and about $772.5 billion for non-defense, discretionary programs, according to The Associated Press.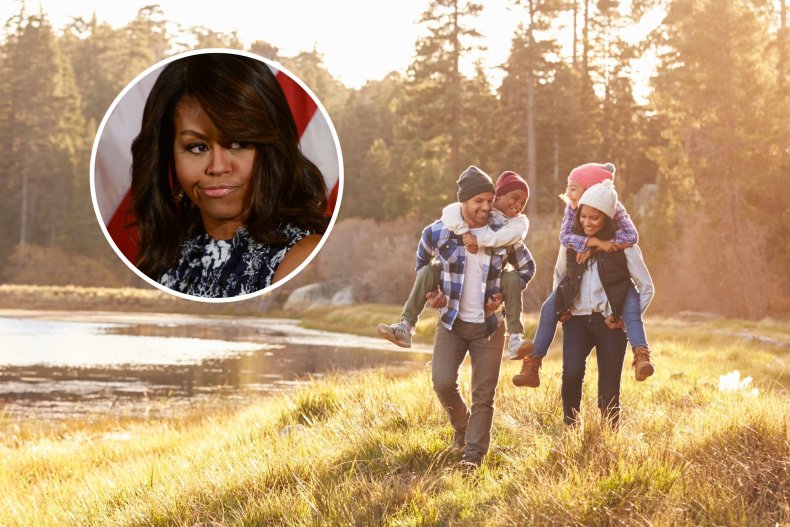 Some Republicans have publicly expressed their disapproval of some of the bill's contents, specifically $3.6 million earmarked for the "Michelle Obama Trail—PATH Trail Project."
Rep. Dan Bishop, from North Carolina, on Twitter highlighted it along with others that he said were "some of the most egregious provisions in the bill."
Arizona Rep. Andy Biggs also slammed the provision, tweeting: "The Democrats' reckless omnibus bill spends YOUR money on a 'Michelle Obama Trail,' a 'Ukraine Independence Park' in DC, and a 'Speaker Pelosi Federal Building' in San Francisco. Are you ok with all of this?"
Sen. Mike Braun of Indiana said he would "be voting to strip every earmark out of this bill."
He tweeted: "Would you spend $2 million on a wax museum? How about $3.6 million on the 'Michelle Obama Trail?' Well, you're about to. These are two earmarks in the omnibus spending bill that will become law this week."
Rep. Mary Miller, from Illinois, said on Twitter that she would "vote against the radical Biden omnibus, which includes 'woke' nonsense like a $3.6 million 'Michelle Obama Trail' in Georgia."
Other Twitter users hit back about the lawmakers' comments, including questioning how a hiking trail could be described as "woke."
"You know conservatives have really lost the thread when they think naming hiking trails after famous Americans is woke," tweeted Fox Sports journalist Tanya Ray Fox.
Another responded to Biggs, writing that they supported such provisions because it "creates jobs and cultural value and costs practically nothing."
The 3.8-mile Michelle Obama trail near the Georgia State University-Perimeter College campus in Decatur was unveiled in 2018.
DeKalb County Commissioner Larry Johnson led the resolution to rename the trail after Obama, saying he was inspired by her "Let's Move" anti-childhood-obesity initiative and passion for physical fitness.
The decision to rename the trail was unanimously approved by the DeKalb County Board of Commissioners in late 2016, according to a news release.
DeKalb Recreation, Parks and Cultural Affairs and Michelle Obama's office have been contacted for comment.