A handful of outgoing House Republicans threw their support behind a bill seeking to modernize the Electoral Count Act, the 135-year-old law former President Donald Trump sought to use to block Joe Biden from becoming president.
The House, in a 220-203 vote Wednesday, passed the Presidential Election Reform Act, the first major legislative electoral reform after the January 6 insurrection and Trump's attempt to remain in office. The bill intends to clarify Congress' role in certifying presidential elections. Nine Republicans, either retiring or having lost a primary, voted for the bill, in a sign of lingering partisan divides over January 6.
The legislation was drafted in response to an effort by Trump and his allies to pressure then-Vice President Mike Pence, who presided over a joint session of Congress to certify results of the 2020 presidential election, to throw out electoral votes from states that Trump falsely claimed had been marred by fraud.
Stating that it intends to "prevent other future unlawful efforts to overturn Presidential elections and to ensure future peaceful transfers of Presidential power," the bill clarifies that the vice president has a strictly ministerial role.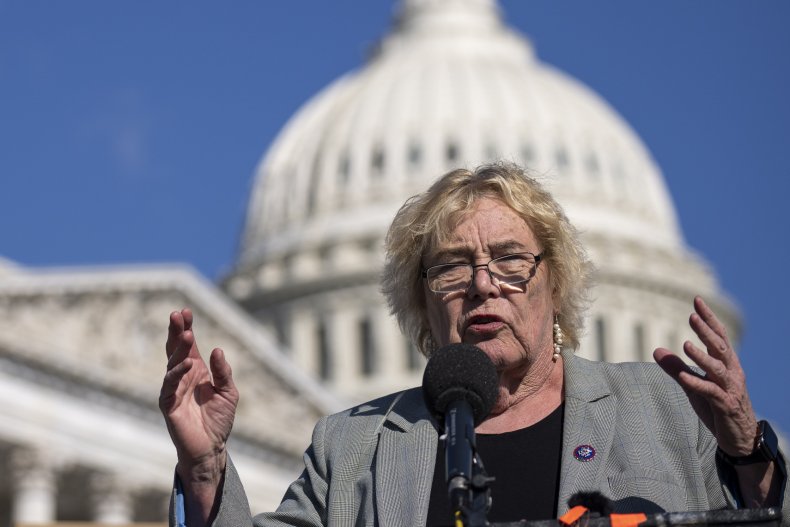 "On January 6, the president had whipped up a mob, told them that the vice president could overturn the election, and a majority of the Republicans in this House voted to reject the decision made by American voters as reflected in the Electoral College, for no reason whatsoever other than sham fraud claims," Democratic Representative Zoe Lofgren said during Wednesday's House floor debate.
Lofgren said the bill prevents Congress from hearing objections to certifying electoral votes unless one-third of each house supports it, which she said will prevent "frivolous" claims from derailing proceedings.
Republican Representative Liz Cheney said the bill had the input of conservative constitutional experts and "reaffirms what the Constitution and existing law make plain."
The Republicans who voted for the bill include Cheney, of Wyoming, and Adam Kinzinger, of Illinois, who have both become ardent critics of Trump and serve on the House probe investigating the January 6 insurrection.
GOP Representative Peter Meijer, who lost his primary in Michigan, said in a tweet that he voted for the bill because ambiguity in the law was cited as justification in objecting the 2020 certification of the presidential election.
The remaining six Republicans who backed the bill were: Tom Rice of South Carolina; Jaime Herrera Beutler of Washington state; Fred Upton of Michigan; John Katko and Chris Jacobs of New York; and Anthony Gonzalez of Ohio.
Other House Republicans blasted the bill, saying it wouldn't solve issues raised by January 6 and was a partisan tactic by Democrats.
Republican Representative Rodney Davis said during the floor debate that Democrats had pushed a "false narrative" that GOP members of Congress are either "election subverters or denies trying to overthrow elections." He pointed out that Democrats have regularly raised objections when Congress has certified previous elections.
Noting that he had lost his primary, Davis said Democrats were trying to bring up Trump as the midterm elections approach.
"It's time for House Democrats to quit playing partisan political games and pushing false narratives just to preserve their own power," he said.
The legislation also requires states to choose their electors who cast votes in the Electoral College under laws adopted before the election, a provision intended to prevent legislatures from throwing out results they don't like.
Republican Representative Tom McClintock called the legislation "clumsy and partisan," saying it doesn't solve the problems already inherent in a partisan body certifying the results, while creating new ones.