Several conservative leaders came to the aid of Infowars founder and conspiracy theorist Alex Jones after a jury ordered him to pay nearly $1 billion in damages to the families of Sandy Hook victims after calling the school shooting a "hoax."
Jones was ordered on Wednesday to pay damages to eight families of victims from the 2012 school shooting, in which 20 first-graders and six school administrators were killed, as well as an FBI agent who responded to the scene, totaling up to $965 million in damages, in addition to attorneys' fees and the more than $50 million he was ordered to pay at a separate trial in August. Many Republicans argued that Jones' statements that the school shooting was a hoax should have been protected by his freedom of speech.
Georgia Representative Marjorie Taylor Greene posted on Twitter shortly after the final damages were announced by the Connecticut jury, and argued on Jones' behalf, saying that "all [Jones] did was speak words."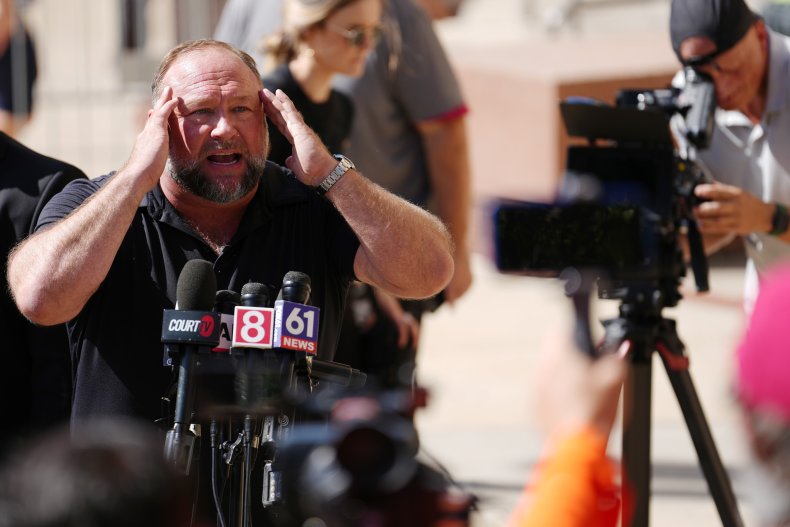 "He was not the one who pulled the trigger," Greene continued. "Were his words wrong and did he apologize? Yes. That's what freedom of speech is. Freedom to speak words."
"Political persecution must end," she added.
Greene was one of several MAGA Republicans who spoke out on Twitter against Jones' verdict, including president and founder of Turning Point USA Charlie Kirk, who said that Jones' trial was really about "sending a message" rather than collecting damages for the victims' families.
"This is about sending a message: If you upset the regime, they will destroy you, completely and utterly, forever," Kirk said.
Kirk said in a later tweet that if Jones "owes a billion dollars for saying mean things on his show, how much should the propagandists at CNN, MSNBC, WaPo, and The New York Times pay to all the Americans they pressured to inject their kids saying it would prevent transmission to grandma?"
Conservative columnist Scott Morefield added to the criticism, tweeting that the trial was "nothing less than the system boldly flexing that they can do far more than just cancel dissidents and 'thought criminals.'"
"They can ruin them financially for life," Morefield added. "Make no mistake, future similar cases will involve imprisonment."
Florida Representative Anthony Sabatini also showed support for Jones, tweeting on Wednesday afternoon that the Infowars host "should be appointed as next President of the University of Florida—NOT Ben Sasse."
The University of Florida (UF) presidential search committee announced last week that Nebraska Senator Ben Sasse, a Republican, was the unanimous finalist to serve as the next UF president. Sasse was one of seven Republicans who voted to convict former President Donald Trump of inciting an insurrection in 2021.
Connecticut's congressional leadership, however, said there was "long-awaited justice" in the verdict.
"No amount of money will ever bring back the beautiful lives lost that tragic day, but this decision is resounding, long-awaited justice for the Sandy Hook families," tweeted Democratic Senator Richard Blumenthal. "In the face of unbridled cruelty, harm, & harassment these survivors have been a profile in courage & perseverance."
Connecticut Senator Chris Murphy, who is also a Democrat, praised the verdict, writing that the "families deserve every dollar coming to them from Alex Jones."
"But let's be clear," Murphy added, "there is a whole ecosystem of hate and conspiracy and Jones is just one organism of many. Until the political right purges this movement from its ranks, none of this ends."
Jones called the verdict "a joke" during an Infowars broadcast on Wednesday and encouraged his viewers to purchase merchandise and make cash donations to help him fight the results of a trial he called a "travesty."
Newsweek reached out to Jones' lawyer, Norm Pattis, for comment.