A computer snafu has potentially left thousands of American Airlines flights without pilots ahead of the Fourth of July travel weekend.
The issue was first reported on Saturday by ABC reporter Gio Benitez, noting that an overnight glitch in the American Airlines system had allowed pilots to drop flights for the month of July. As a result, roughly 12,000 flights are now without pilots, starting as soon as Sunday and including the Fourth of July weekend, one of the biggest times for air travel in the U.S.
"We have become aware of a technical issue with our Trip Trade with Open Time System (TTOT)," American Airlines said in response to an inquiry from ABC News. "We understand these are important tools for our pilots and are working as quickly as possible. We will provide updates throughout the day as we learn more."
In a second statement, American Airlines assured that the issue in the system had been resolved and that most of the affected flights had been restored. The company anticipated that there would not be "any operational impact because of this issue." Despite assurances, the company did not specify how it had gone about restoring the flights.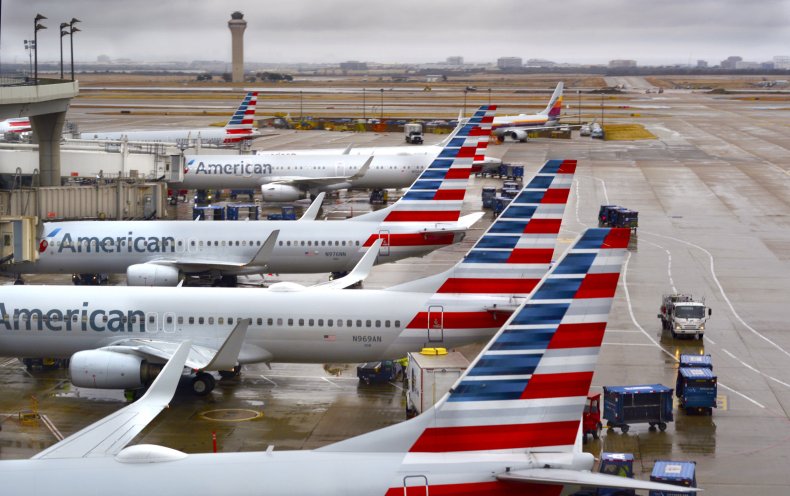 According to Benitez, this same issue occurred in 2017 and led to American Airlines offering double pay to pilots in order to resolve the issue. As of Saturday afternoon, no such offer had been made and it is unknown if the same method was ultimately used this time around.
Pilots are often able to drop flights or trade them with other pilots. However, during the hectic summer travel months and around major holidays, these policies are scaled back in order to meet high demand, CNBC noted. On Saturday, American Airlines boasted roughly 3,000 flights, 93 percent of which were booked to capacity.
Staffing shortages and major thunderstorms had already been wreaking havoc on the air travel industry heading into the Fourth of July weekend. On Friday, American Airlines alone had to delay nearly 1,000 flights, with the industry overall suffering over 1,100 cancellations and nearly 11,000 delays. The issue leveled off somewhat on Saturday, with only around 3,000 flights being canceled.
Newsweek reached out to American Airlines for comment.
As a result of the issues plaguing the industry, the number of flight issues in recent months surpassed pre-pandemic levels. Staffing issues, in particular, are likely to persist, according to one expert.
"Certain jobs cannot be filled quickly, nor should they be when it's as critical as, you know, pilots," William McGee, senior fellow for aviation at American Economic Liberties Project, told the Fort Worth Star-Telegram. "And so now we have this shortage. There's just no way it's going to be fixed this summer."