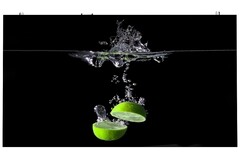 LG will soon be releasing a gigantic 163-inch 4K microLED TV. The huge device is already listed in the South Korean company's business solutions under the model number LSAB009 (P0.9). Apparently, the 163-inch LG 4K microLED TV will be ideal for business premises and even those who consider themselves living in an ultra-premium abode.
While Xiaomi is busy impressing regular home-owners with its 98-inch Redmi Smart TV Max, it appears LG wants to target those with a sprawling mansion replete with unadorned walls instead. The South Korean OEM is preparing to launch the 163-inch 4K microLED TV LSAB009 (P0.9) onto the market, and where it is likely businesses will be the main market for the massive TV, there will likely be a few private buyers interested too.
Those willing to cough up the undoubtedly sky-high price tag for the LG LSAB009 (P0.9) will get a 163-inch microLED TV with a 4K screen, a peak brightness of 1,200 nits (600 nits typical), a peak contrast ratio of 100,000:1, and such deep blacks that "the hidden details in the shadows appear" according to the marketing blurb. The LG microLED TV, which will apparently start shipping on August 17, has a pixel pitch of 0.9 mm and consists of tiles with a resolution of 640×360 each.
Unsurprisingly, the 163-inch LG microLED TV has "chip-on-board technology" and offers wireless data transfer and cable-free power docking. The price hasn't been publicly announced, but it has been pointed out that a 118-inch 4K Konka microLED has a price tag of US$240,000 and a 236-inch 8K variant will set you back US$1.25 million. So if you have around half-a-million dollars or so lying around and a wall in your mansion crying out for a giant microLED TV then LG's LSAB009 could be worth a second look.
Sale off – Buy LG 86″ 4K Ultra HD Smart LED TV (2020) now on Amazon