Police have arrested a Massachusetts man for misleading the investigation into the mysterious New Year's Day disappearance of his wife from a wealthy Boston suburb.
Authorities on Sunday announced the arrest of Brian Walshe, 46, of Cohasset, whose wife Ana Walshe, 39, a mother of three, was simultaneously reported missing by both her husband and her employer on Wednesday, three days after she was allegedly last seen by an unspecified family member.
The arrest comes a day after Cohasset Police announced that they were suspending the two-day ground search they had been conducting in conjunction with state police in the wooded area near Ana Walshe's home before returning to the home again on Sunday, NBC Boston reported.
"The ground search will not resume unless police develop new information that so warrants it," police said Saturday, noting that the investigation was still ongoing.
It is unclear what police were doing at the house Sunday. Cohasset Police did not respond to questions and directed questions to the Norfolk District Attorney's Office, which declined to respond to questions.
Questions surround story of disappearance
The circumstances of Ana Walshe's alleged disappearance have been murky, with questions surrounding the details of the moments she was allegedly last seen, and the search to locate her has involved state and local police from several surrounding towns.
Cohasset police announced their search for Ana Walshe on Thursday, the day after she was reported missing and four days after she was allegedly last seen by an unnamed family member.
Police told reporters Friday that Ana Walshe was allegedly last seen in her home early Sunday before she allegedly took a ride share from her Cohasset home to Boston's Logan Airport, about 30 miles north, to board a plane to Washington, D.C., where she allegedly had to attend to a work emergency. It is unclear who reported those alleged details.
But during the same news conference, police also told reporters Friday they had not been able to independently confirm Walshe got into or even booked a car service, or that she had had a flight booked for Jan. 1 — although police did say they confirmed she had a flight booked from Boston to D.C. for Jan. 3.
Police did not specify who allegedly last saw Ana Walshe other than saying it was a "family member," and said her husband was sleeping at the time she allegedly left the house around 4 a.m.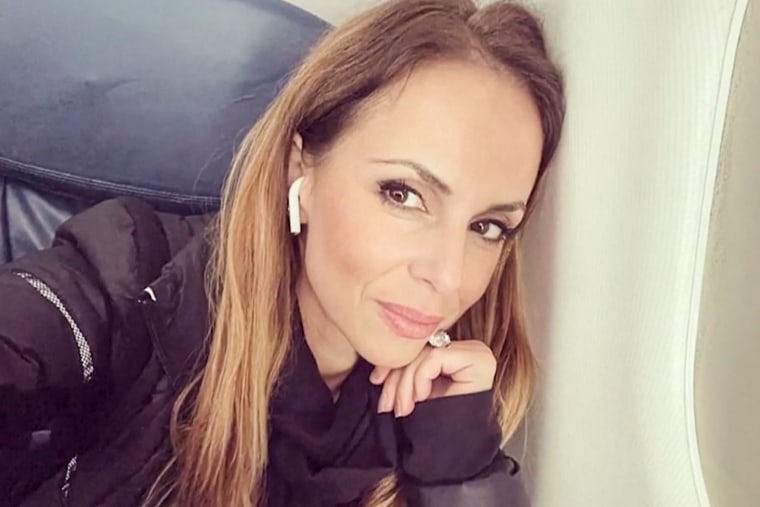 Ana Walshe often traveled to D.C. for work, police said; her LinkedIn page lists her title as regional general manager at real estate company Tishman Speyer.
A representative for Tishman Speyer could not be reached for comment.
Cohasset Police said members of D.C.'s Metropolitan Police Department had not been able to locate her in the capital.
Ana Walshe left no electronic footprint, police said Friday, adding that her cell phone has been turned off since the beginning of the year.
Husband misled investigators
Police also said Friday there was no evidence to support any criminal or suspicious activity in her disappearance, and that Ana Walshe's husband and family had been cooperative.
But during the investigation into her disappearance, "police developed probable cause to believe that her husband Brian Walshe had committed the crime of misleading police investigators," the Norfolk DA's Office said Sunday.
Brian Walshe is scheduled to be arraigned in Quincy District Court on Monday morning, according to the DA's office, which added that "additional facts may or may not be entered into the record at that time, but no further information is expected to be released at this time."
A spokesperson for the DA's office did not respond to an inquiry seeking more information on the charge from NBC News. It is unclear if Brian Walshe has a lawyer who can speak on his behalf.
In 2021 Brian Walshe pled guilty in federal court in Boston to three counts, including wire fraud, after stealing Andy Warhol paintings from a former college classmate and then commissioning forgeries of them, Reuters reported at the time. Court documents show that Brian Walshe was ordered to forfeit $225,000, but does not yet appear to have been sentenced to any prison time in that case.
'This is completely unlike her'
Ana Walshe is 5 foot 2 inches tall, weighs 115 pounds, has brown hair, brown eyes and an olive complexion, and is believed to speak with an Eastern European accent, according to information released by Cohasset Police earlier this week.
Her Instagram account offers glimpses into her time spent in D.C., scenes from other travels and pictures of her young sons.
Ana Walshe's friends and neighbors told NBC Boston they were disturbed by her disappearance.
"This is completely unlike her and I think that is part of the shock," her friend Evan Turell told the local station. "She would not go a day without talking to her husband and her boys."
"This is honestly just really mind-boggling, and gut wrenching," Turell added. "There's no words."
Cohasset is a small, wealthy suburb of Boston with a population of just over 8,300 people — more than 93% of whom are white — and a median home value of $875,000, according to U.S. Census data.
In another bizarre twist, the Walshe family's former home on Cohasset's Jerusalem Road — which they moved out of last April — broke out in flames on Friday, NBC Boston reported. Cohasset Police said Saturday that state and local investigators determined the cause of the fire was accidental, and that no one was injured and three adults and a young child escaped before first responders arrived.