Republicans are being mocked over panicked claims that the administration of President Joe Biden intends to confiscate gas cooking stoves.
Outrage ensued this week after Richard Trumka Jr., a Biden-appointed commissioner with the U.S. Consumer Product Safety Commission (CPSC), said in an interview with Insider that a ban on gas stoves was "on the table" due to the cooking appliances posing a "hidden hazard" to health.
CPSC Chairman Alexander Hoehn-Saric said in a statement on Wednesday that although the agency is looking for ways to mitigate "indoor air quality hazards" posed by emissions from the stoves, he was "not looking to ban gas stoves and the CPSC has no proceeding to do so."
Trumka also shot down claims that stoves would be confiscated shortly after the backlash began, pointing out in a tweet on Monday that any potential new regulations would only apply to new products and that the "CPSC isn't coming for anyone's gas stoves."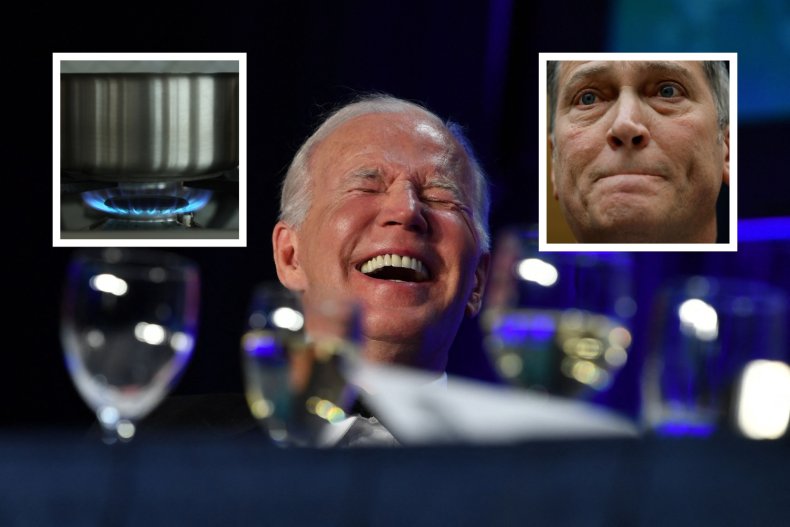 A significant number of Republican politicians seized on the notion that Biden would be "coming for" the stoves regardless, with many expressing their outrage on social media.
"I'll NEVER give up my gas stove," Representative Ronny Jackson, a Texas Republican, tweeted on Tuesday. "If the maniacs in the White House come for my stove, they can pry it from my cold dead hands."
"Democrats are coming for your kitchen appliances," tweeted Republican Senator Tom Cotton of Arkansas. "Their desire to control every aspect of your life knows no bounds—including how you make breakfast. They just can't help themselves."
"@JoeBiden, get your hands off our gas stoves!!!!" tweeted Republican Representative Byron Donalds of Florida. "If you know ANYTHING about cooking, there is nothing like cooking on a gas stove. Democrats want to ban gas stoves. Republicans want to LEAVE YOU ALONE."
The Republican outrage soon became the subject of mockery from others on social media.
"Ronny please remember to turn the gas stove off, otherwise it's gonna be pretty easy for them to take it," comedian Brian Gaar tweeted at Jackson.
"YOU CAN PRY MY GAS STOVE FROM MY COLD, DEAD (FROM ASTHMA) HANDS," tweeted journalist and voice actor Chelsey Coombs.
"If you have cold dead hands, maybe the gas stove was not working all that well," political scientist Don Moynihan tweeted.
"Gas stoves may be giving kids asthma. Me: Interesting, logical, perhaps a reason to phase them out long-term," tweeted writer Arieh Kovler. "US Right: The Woke Communist Dems are going to steal your gas stove so you're forced to eat BUGS, causing mass depopulation and, erm, social credit?!"
"Gas stove controversy another validation of my big idea: Every gov't agency should keep a MAGA guy on retainer, and ask him 'so will this idea sound crazy to people' before rolling it out," journalist David Weigel tweeted.
"The gas stove thing is so funny to me because even if the study found 97% of cancer was caused by them the right would react exactly the same," tweeted podcaster Kyle Kulinski.
"Defending my guns with my gas stove," comedian David Cross tweeted.
"Did you know that ongoing exposure to NO2 from gas stoves is linked to reduced cognitive performance," Democratic Representative Alexandria Ocasio-Cortez of New York tweeted at Jackson after he suggested that the White House might "come for" his stove.
Jackson later shot back at Ocasio-Cortez, tweeting a photo appearing to show her near a gas stove and commenting, "as a medical doctor, I can tell you this: what's wrong with your head IS NOT caused by stoves. Something WAY BIGGER is causing your decreased cognitive function!"
Republicans were not alone in expressing outrage over the supposed gas stove ban. Democratic Senator Joe Manchin of West Virginia called the alleged plan "a recipe for disaster" while asserting that "The federal government has no business telling American families how to cook their dinner," in a tweet.
"Sir, just stop gaslighting," comedy writer Nimrod Kamer tweeted in response to Manchin.
Some, including Republican Senator Ted Cruz of Texas, have also suggested that first lady Jill Biden is a hypocrite by sharing a photo of her cooking with a gas stove in 2020, despite there being no evidence that the first lady supports a ban on gas stoves.
There also appears to be no evidence that the president himself supports a ban on gas stoves, with White House press secretary Karine Jean-Pierre saying explicitly on Wednesday that Biden does not support such a ban.
"The president does not support banning gas stoves," Jean-Pierre said during a briefing. "And the Consumer Product Safety Commission, which is independent, is not banning gas stoves. I just want to be very clear on that."
Despite there being no plans to ban gas stoves, Republican Congressman Bill Huizenga of Michigan introduced a bill on Wednesday that would prevent the government from enacting any bans on gas stoves, dubbed the Stop Trying to Obsessively Vilify Energy (S.T.O.V.E.) Act.