A compilation of Republicans describing Democrats as "fascists" has racked up more than 600,000 views after conservative commentators ripped President Joe Biden for slapping Republicans with similar criticism in a prime-time speechThursday night.
While he never specifically used the term "fascist," Biden railed against the extreme reflexes of the far right during a speech in Philadelphia, arguing the modern Republican Party aimed to "promote authoritarian leaders, and they fanned the flames of political violence that are a threat to our personal rights, to the pursuit of justice, to the rule of law, to the very soul of this country."
The comments came just one week after Biden labeled those same Republicans with the term "semi-fascism" in a speech in Rockville, Maryland, prompting some Republicans to equate Biden's speech to that of other totalitarian regimes who target their political rivals in state-sponsored broadcasts.
"What Joe Biden is saying right now is the official position of the entire executive branch of the U.S. government," Fox News host Tucker Carlson said in a monologue simulcast during Biden's address. "That would include the Justice Department, the various intel agencies and the world's most powerful standing military."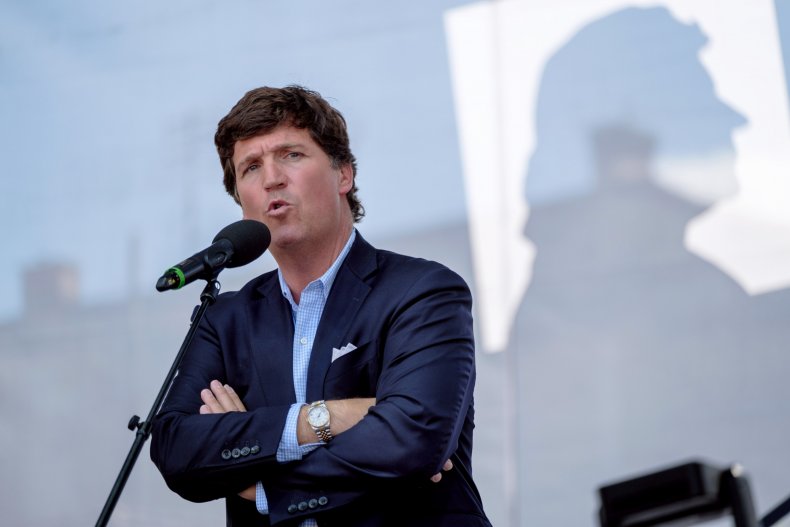 "Think about that," he added. "Does it make you nervous? You don't have to be a Trump voter to see a speech like this as a turning point in American history. For hundreds of years, the U.S. has had a political system comprised of two competing parties. If you were to declare one of those parties criminal and illegitimate, what would you be left with?"
To some degree, conservatives—including some who currently serve in office—already have.
Shortly after Biden's speech, liberal MSNBC commentator Mehdi Hasan posted a videolate Thursday evening showing a rolling roster of high-profile conservatives like Jeanine Pirro, Texas Representative Dan Crenshaw, former U.S. Attorney General Bill Barr and Carlson himself calling various Democratic initiatives and politicians fascist. As of this writing, the video already has 600,000 views and counting.
Moderate Republicans like Adam Kinzinger have openly questioned some of the accepted labels that far-right Republicans placed on their political opponents, including the labeling of teachers who share LGBTQ-friendly content as "groomers" and the chants of "let's go Brandon!"
Others, like Arkansas Republican Governor Asa Hutchinson, described Biden's "divisive" and "not presidential" speech as a starting point for more productive and unifying discussions with the other side amid genuine disagreements over issues like border security and the economy, even as a large contingent of his party still denies the result of the 2020 election.
"We have issues within the Republican Party we need to resolve and work through," Hutchinson told CNN's New Day Friday morning. "That's what elections are about."
"I have a lot of confidence in where we're going and that we can overcome the challenges we see today," he later added. "But we need optimistic leaders that dwell upon the future and present answers, and problem solve, but not the past."