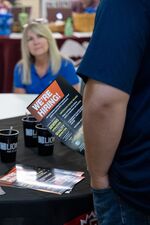 Inflation in the U.S. is hot. Nonetheless, the recovery over the last 22 months is seen by most economists as a policy success story.
When the downturn hit, the Federal Reserve loosened monetary policy aggressively, while the Treasury engaged in an unprecedented level of income replacement for workers who had lost their jobs. That was followed up with subsequent checks, and now we have sub-4% unemployment, strong corporate profits, strong private-sector balance sheets and a Fed that feels comfortable hiking rates again.
Of course, it's well-known that a lot of small- and medium-sized businesses have been extremely frustrated with their ability to hire, particularly at pre-pandemic pay scales.