The Biden administration said Thursday Saudi Arabia's Crown Prince
Mohammed bin Salman
has immunity in a lawsuit filed against him due to his high office over the 2018 killing of Washington Post columnist Jamal Khashoggi.
Driving the news: The declaration was made in a court filing in the suit filed by the journalist's fiancée, Hatice Cengiz, who slammed the Biden administration for its action, and the rights group Khashoggi founded, Democracy for the Arab World Now.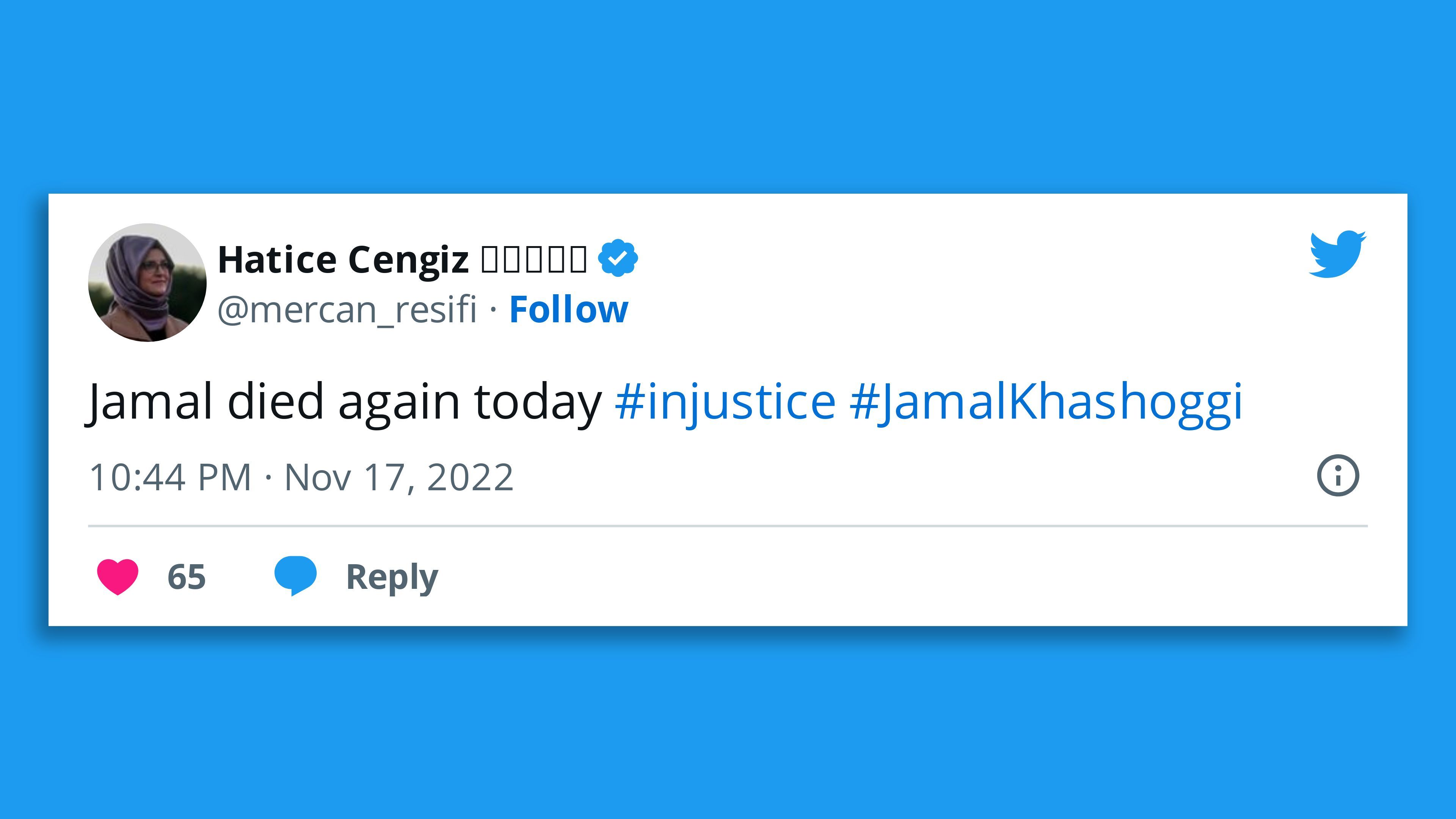 Details: A State Department spokesperson said in an emailed statement the Justice Department filed the "suggestion of immunity," at the request of the State Department, "based on longstanding and well-established principles" of law.
This includes customary international law, "which the United States has consistently and across administrations applied to heads of state, heads of government, and foreign ministers while they are in office," the spokesperson said.
"This Suggestion of Immunity does not reflect an assessment on the merits of the case. It speaks to nothing on broader policy or the state of relations. This was purely a legal determination."
What they're saying: Cengiz tweeted that the suggestion of immunity "wasn't a decision everyone expected."
"We thought maybe there would be a light to justice from #USA But again, money came first," she added. "This is a world that Jamal doesn't know about and me..!"
The big picture: President Biden was criticized for sharing a fist bump with the prince, commonly known as MBS, after arriving in the Gulf kingdom in July.
U.S. officials determined last year that MBS had approved the 2018 murder of Khashoggi inside the Saudi consulate in Istanbul.
MBS has denied he ordered the dissident Saudi journalist's killing, but said he accepted "responsibility" because it "happened under my watch."
What's next: A judge will determine whether to grant the prince immunity, as the Biden administration's suggestion is non-binding, per AP.