Massachusetts Gov. Charlie Baker has activated 250 members of the National Guard to help cities and towns bus kids to school amid a widespread driver shortage.
The governor's office said the decision comes in response to requests from the local community to assist with school transportation for the upcoming school year. On Tuesday, 90 guard members will begin training and prepare for service in Chelsea, Lawrence, Lowell and Lynn, MA—where shortages are noticeable.
Guard personnel will serve as school transport van drivers by operating 7D vehicles that carry up to 10 students and each activated member will complete training as required by state law to "ensure the safety of children and families," according to a press release.
"We've had conversations with colleagues in municipal governments about the issue with drivers, but nobody was really sure where it was going to land," Baker said. "Once it became clear that there were going to be communities that were shorthanded, wasn't going to be a vehicle issue, but an issue with [Commercial Driver's Licenses], we started talking to the Guard."
Baker said that because the Guard has both people who drive trucks and have CDLS, his office asked communities if they'd be interested in having the Guard operate the smaller buses.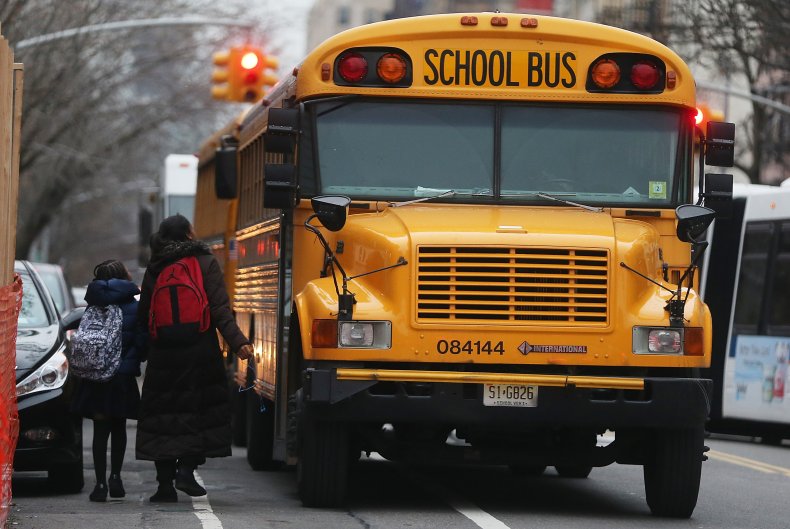 The Boston Herald reported that school districts in Massachusetts have had a complicated start to the year with the spread of the COVID-19 delta variant and mask requirements in addition to the driver shortage.
During the first day of school last week in Boston, public school officials said that only 57 percent of the school's bus fleet completed on-time drop-offs.
One business, NRT Bus Company, which provides school transportation to about 150 school districts, told WCVB that it has lost approximately 10 percent of its drivers but the shortage was already growing prior to the pandemic. CEO John McCarthy said they were down 370 employees, and although there are 100 drivers in the pipeline, the number isn't where it should be for the start of school.
Prior to the first day, the Boston school bus drivers' union said the 2021-2022 school year was "by far the worst fiasco we've witnessed in our careers" and called for a postponement to solve routing issues. Ultimately, it was denied.
In the future, Baker said if the state can find more people qualified to assist with school transportation they'll work to serve as many communities as they can.
Officials said that this mission will not interfere with the Guard's ability to respond to emergencies in Massachusetts. Governor Baker could not provide an estimate as to how much the assistance would cost but said it could be reimbursed by the federal government.