Acting Capitol Police Chief Yogananda Pittman said Thursday that the militia groups connected to the January 6 Capitol riot discussed plans for a similar attack during the State of the Union address.
Testifying before a House Appropriations subcommittee, Pittman said, "We know that the insurrectionists that attacked the Capitol weren't only interested in attacking members of Congress and officers. They wanted to send a symbolic message to the nation as [to] who was in charge of that legislative process."
She added, "We know that members of the militia groups that were present on January 6 have stated their desires that they want to blow up the Capitol and kill as many members as possible with the direct nexus to the State of the Union…. We know that date has not yet been identified."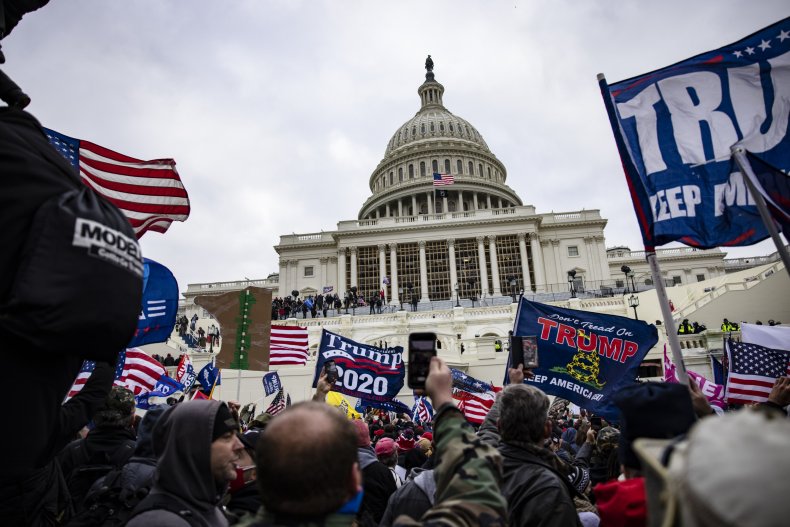 Pittman went on to say that in view of this potential attack, the Capitol Police agency believes it needs to maintain a "robust security posture" around the building "until we address those vulnerabilities going forward."
Newsweek reached out to the Capitol Police for comment but did not receive a response in time for publication.
Pittman's comments came as she was discussing the fencing around the Capitol building and the presence of National Guard members. Both were brought to the Capitol after the January 6 attack, when supporters of former President Donald Trump assaulted the building while protesting congressional certification of the presidential election's electoral votes.
Pittman said her agency is working on removing the fencing and decreasing the National Guard's presence.
"I know that I speak for everyone here in the leadership when it comes to the fencing surrounding the campus, as well as the National Guard. We have no intention of keeping the National Guard soldiers or that fencing any longer than what is actually needed," she said. "We're actively working with a scaled-down approach so that we can make sure that we address three primary variables."
Pittman said those variables were the "known threat to the environment," "the infrastructure vulnerabilities" and "the limitations the U.S. Capitol Police knows that it has as it relates to human capital and technology resources."
During her testimony Tuesday, Pittman spoke about criticism the Capitol Police received after the attack. Three days before January 6, an internal document distributed among Capitol Police officers warned of a potential attack.
Despite the warning, Pittman said the attack was much larger than her agency expected.
"It's been suggested that the department was either ignorant of or ignored critical intelligence that indicated that an attack of the magnitude that we experienced on January 6 would occur," she said. "The department was not ignorant of intelligence indicating an attack of the size and scale we encountered on the sixth. There was no such intelligence."
The chief added, "Although we knew the likelihood for violence by extremists, no credible threat indicated that tens of thousands would attack the U.S. Capitol, nor did the intelligence received from the FBI or any other law enforcement partner indicate such a threat."