Tropical Storm Ian is on track to hit Florida early next week "at or near major hurricane strength," according to a National Hurricane Center (NHC) warning.
The storm formed in the central Caribbean Sea on Friday and currently has maximum winds speeds of 45 miles per hour, with higher gusts.
At 8am ET on Saturday Storm Ian was located around 300 miles southeast of Kingston, Jamaica, moving at 15 miles per hour.
It is forecast to become a hurricane "late Sunday or Sunday night," and could rank as a Category 3 hurricane or higher before hitting the U.S. mainland, according to the NHC.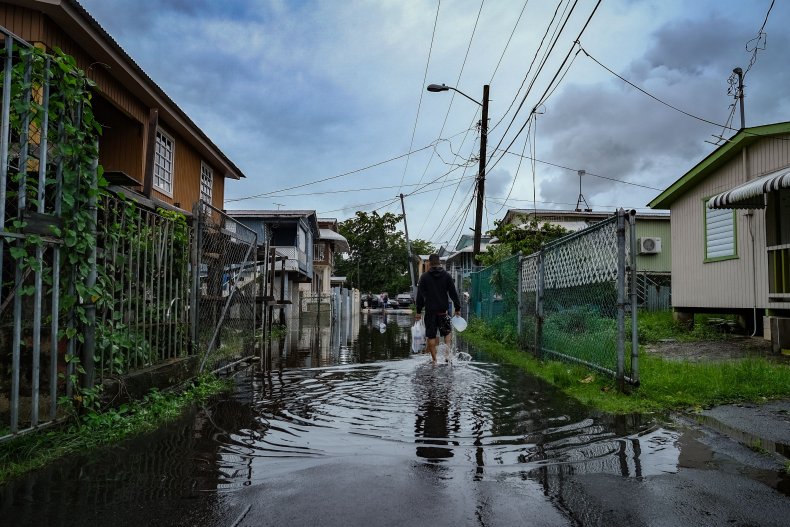 There are risks of "flash flooding and possible mudslides" in Jamaica and Cuba as the storm makes its way northwards, according to the NHC.
In an advisory note the agency said: "Hurricane conditions are possible in the Cayman Islands by early Monday, with tropical storm conditions possible by late Sunday. Tropical storm conditions are possible in Jamaica on Sunday."
"Early next week, Ian is forecast to move near or over western Cuba as a strengthening hurricane and then approach the Florida peninsula at or near major hurricane strength, with the potential for significant impacts from the storm surge, hurricane-force winds and heavy rainfall.
"While it is too soon to determine the exact magnitude and location of these impacts, residents in Cuba, the Florida Keys, and the Florida peninsula should ensure they have their hurricane plan in place and closely monitor forecast updates through the weekend."
A category three hurricane is one with wind speeds between 111 and 129 miles per hour, according to the National Weather Service.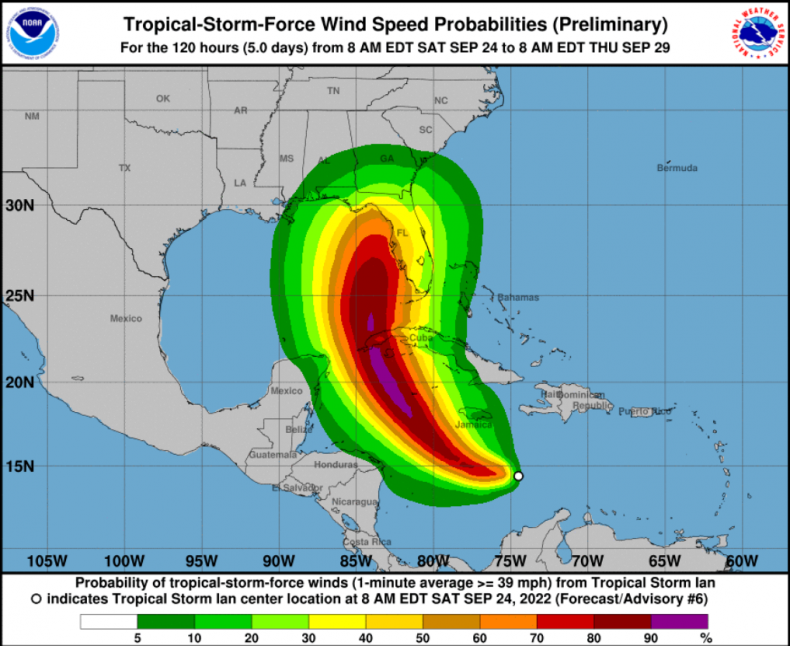 If Tropical Storm Ian reaches this strength it will be the first major hurricane to hit Florida since 2018, when Hurricane Michael hit the state as a category five storm.
Previously Tropical Storm Ian was known as Tropical Depression 9, with Florida Governor Ron DeSantis urging people in the state to "remain vigilant."
On Friday he tweeted: "This morning, Invest 98L strengthened into Tropical Depression Nine. While the eventual track of #TD9 is uncertain, Floridians should remain vigilant and ensure their households are prepared for a potential impact."
Earlier this week Hurricane Fiona killed four people in Puerto Rico, with thousands more locals left without power or water.
The Federal Emergency Management Agency sent additional staff to the U.S. territory on Tuesday, to "bolster response & recovery efforts."
Hurricane Fiona is heading north and could become "one of the strongest storms to hit Canada" this weekend, according to the National Weather Service Cleveland.
They tweeted: "Fiona will hit the Canadian Maritimes and Nova Scotia this weekend with devastating winds over 100 mph."
However Fiona is not expected to make contact with the U.S. mainland.