Former President Donald Trump blamed the United States for "almost forcing" Russian President Vladimir Putin to invade Ukraine.
Trump's remarks came as Russia continued to stall in their struggling "special military operation," ordered by Russian President Vladimir Putin more than seven months earlier on February 24, 2022. The ex-president has been critical of how President Joe Biden, who he may run against in the 2024 presidential election, has handled diplomatic relations with Russia. But critics accuse Trump of taking positions seen as favorable to Putin.
During an interview on Real America's Voice, a right-wing network favorable to Trump, the former president criticized the Biden administration. He argued that their "rhetoric" in the months leading up to the Ukraine invasion contributed to Putin's decision.
"They actually taunted him, if you really look at it. Our country, and our so-called leadership, taunted Putin. I said, you know, they're almost forcing him to go in with what they're saying. The rhetoric was so dumb."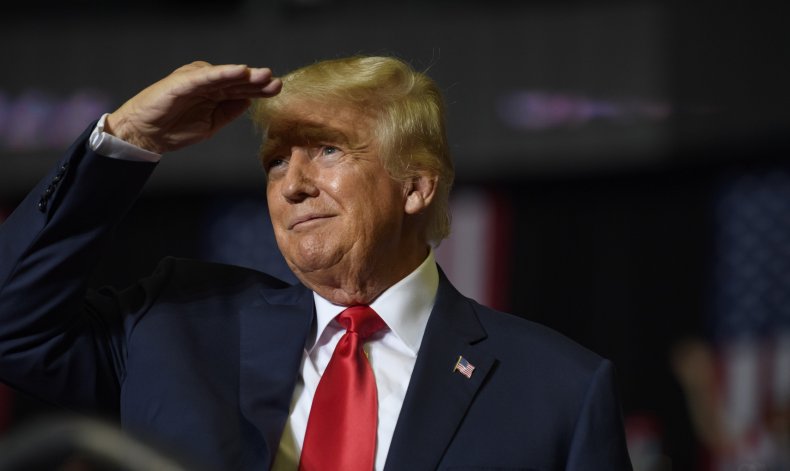 He claimed, without evidence, that the Ukraine invasion would have "never" happened if he were still president. He also did not provide any specific examples of how the U.S. "taunted" Putin into invading Ukraine.
Trump also touted his working relationship with both Putin and Ukraine President Volodymyr Zelensky when Real America's Voice host Wayne Root suggested Biden could send Trump to negotiate a peace deal.
"I got along very well with both Zelensky and Putin," Trump said. "If you remember, Zelensky was very nice because when they asked him about the Ukraine, Ukraine, Ukraine hoax—that was the phone call—he looked at them and said 'What was wrong with the call? He did nothing wrong.'"
William Pomeranz, the Director of the Wilson Center's Kennan Institute, cast doubt on Trump's comments in an interview with Newsweek, pointing out that Biden said Ukraine would need to work on its corruption in order to gain entry to the North Atlantic Treaty Organization (NATO) but that Putin's given justification for the invasion was unrelated to NATO.
"It's something Putin has been thinking about for many years," he said. "I think Putin basically launched this campaign to annex what was two territories—but is now four territories—to expand the Russian Federation. I think this was an example of imperial intent. He wanted to expand his territory and the Russian empire."
He said it will never be known if the invasion would have occurred if Trump won the 2020 election but that he did not believe Trump would have "stood up for Ukraine."
"Did Trump think that he had such a great relationship that he could dismay him from attacking, I just don't think so," he said.
Trump Faced Criticism for Past Russia-Ukraine War Comments
Trump has faced criticism for several comments about the Russia-Ukraine war. In the days leading up to the conflict, Trump said Putin was a "genius" for moving troops into Ukraine.
"Here's a guy that says, you know, 'I'm gonna declare a big portion of Ukraine independent.' He used the word 'independent,' 'and we're gonna go out and we're gonna go in and we're gonna help keep peace.' You gotta say that's pretty savvy," Trump told Clay Travis and Buck Sexton in February.
In March, he again renewed controversy after appearing to push Putin to release any information he has about Hunter Biden's alleged business dealings in Russia during a conversation on Real America's Voice about an accusation that Biden's company received $3.5 million from the widow of a former Moscow mayor.
"She gave him three and half million dollars. So now I would think Putin would know the answer to that. I think he should release it. I think we should know that answer," he said.