The White House lashed out against Miles Taylor after the former DHS chief of staff was revealed to be the anonymous administration official who penned a critical op-ed about the president in 2018.
"President Trump is focused on leading the great American comeback and keeping his promises to the American people. This low-level, disgruntled former staffer is a liar and a coward who chose anonymity over action and leaking over leading," press secretary Kayleigh McEnany said in a statement.
"The American people elected President Trump to carry out his vision for the country, not an arrogant deep state operative trying to put their agenda ahead of the President's America First policies."
Shortly after the op-ed was published in the New York Times, Trump sent a one-word tweet saying, "TREASON?"
It's important to remember that, as a senior official in the department of homeland security under Trump, Miles Taylor played a key role in overseeing the president's "zero tolerance" immigration policy.
That policy resulted in the separation of thousands of migrant children from their parents, and officials still cannot locate the parents of 545 separated children.
Some reporters criticized the New York Times for offering Taylor an anonymous platform as he publicly defended the administration's widely criticized immigration policies.
Miles Taylor denied knowledge of the identity of "Anonymous" in August, shortly after he went public with his criticism of Trump.
In an interview with CNN, Taylor dismissed the importance of discovering the identity of "Anonymous," saying it had become a "parlor game" in Washington to guess who the secret administration official was.
Asked directly be CNN anchor Anderson Cooper whether he was "Anonymous," Taylor replied, "I wear a mask for two things, Anderson: Halloween and pandemics. So, no."
Miles Taylor confirmed he was "Anonymous," saying in a Medium post that he viewed his criticism of Trump as a moral imperative.
Taylor writes in his post:
We do not owe the President our silence. We owe him and the American people the truth.

Make no mistake: I am a Republican, and I wanted this President to succeed. That's why I came into the Administration with John Kelly, and it's why I stayed on as Chief of Staff at the Department of Homeland Security. But too often in times of crisis, I saw Donald Trump prove he is a man without character, and his personal defects have resulted in leadership failures so significant that they can be measured in lost American lives. …

Much has been made of the fact that these writings were published anonymously. The decision wasn't easy, I wrestled with it, and I understand why some people consider it questionable to levy such serious charges against a sitting President under the cover of anonymity. But my reasoning was straightforward, and I stand by it. Issuing my critiques without attribution forced the President to answer them directly on their merits or not at all, rather than creating distractions through petty insults and name-calling. I wanted the attention to be on the arguments themselves.
Identity of 'Anonymous' Trump administration official revealed
The identity of "Anonymous," the Trump administration official who detailed "a quiet resistance within the administration of people choosing to put country first" in a 2018 op-ed, has been revealed.
The New York Times reports:
Miles Taylor, the former chief of staff at the Department of Homeland Security, was the anonymous author of The New York Times Op-Ed article in 2018 whose description of President Trump as 'impetuous, adversarial, petty and ineffective' roiled Washington and set off a hunt for his identity, Mr. Taylor confirmed Wednesday.

Mr. Taylor was also the anonymous author of 'A Warning,' a book he wrote the following year that described the president as an 'undisciplined' and 'amoral' leader whose abuse of power threatened the foundations of American democracy. He acknowledged that he was the author of both the book and the opinion article in an interview and in a three-page statement he intended to post online.
Taylor went public with his criticism of the president in August, with an ad from the group Republican Voters Against Trump, in which he endorsed Biden.
In the ad, Taylor accused Trump of trying to "exploit the Department of Homeland Security for his own political purposes and to fuel his own agenda."
Taylor said, "Given what I experienced in the administration, I have to support Joe Biden for president."
House speaker Nancy Pelosi provided an update on the negotiations over a coronavirus relief bill, in an interview this afternoon with MSNBC.
The Democratic speaker expressed hope that Trump would be incentivized to reach a deal on a relief package after seeing the stock markets' recent downturn.
Pelosi noted she is still waiting for a response from the Trump administration on accepting Democrats' bill language on developing a national coronavirus testing strategy.
The president said yesterday that he expected to pass a relief bill after election day. "After the election, we will get the best stimulus package you have ever seen," Trump told reporters.
The Guardian's Kenya Evelyn reports:
Black Americans could decide the 2020 presidential election, particularly in key battleground states like Wisconsin and Florida. The battle for the White House approaches as Black Americans face the brunt of an unprecedented national crisis – one in 1,000 have died of the virus and African Americans are twice as likely to have lost a job.
Joe Biden's road to the White House could hang on Democrats' ability to turn out their most loyal bloc.
Although they have maintained a sizable advantage among African Americans over Republicans counterparts for decades, support for Democrats has slowly declined since the final years of Barack Obama's presidency. That complicates Democratic efforts to court these 30 million eligible voters ahead of 3 November.
African Americans are often depicted as a single, unified bloc, and many analysts warn Democrats that therein lies the problem. As experts debunk the myth of the Black voter monolith, the path to victory may be dependent on Democrats' ability to speak to Black voters' diversity.
Here are factors that will shape Black voting turnout on election day, and their political power well beyond:
Trump suggested he wanted courts to stop states from counting votes after election day, even though the tabulation of ballots is often a days-long process for election officials.
"We'll see what happens at the end of [election day]," Trump said at his press conference in Las Vegas this afternoon.
"Hopefully it won't go longer than that. Hopefully the few states remaining that want to take a lot of time after November 3rd to count ballots, that won't be allowed by the various courts," the president added.
In reality, states officially have until December 8 (known as the "safe harbor" deadline) to tabulate their final election results.
Several polls of battleground states were just released, so the blog is going to sum them up.
First up is Georgia, where Biden has pulled slightly ahead of Trump, according to Monmouth University.
A new Monmouth poll found that Biden has a 5-point advantage over Trump among Georgia's registered voters, 50%-45%. Biden's lead among the state's likely voters shrinks to between 2 and 4 points, depending on the level of turnout, which means Biden's likely voter lead is within the poll's margin of error.
Trump won Georgia by 5 points in 2016, and the president almost certainly must win the state again in order to secure a second term.
Two other polls also showed Biden leading in the Midwestern battleground states of Wisconsin and Michigan, both of which Trump won by less than 1 point in 2016.
According to a New York Times/Siena College poll, Biden leads Trump by 8 points among likely voters in Michigan, 49%-41%.
A new Marquette Law School poll also found Biden has a 5-point advantage among likely voters in Wisconsin, 48%-43%. That is a very different result from the Washington Post-ABC News poll of Wisconsin released this morning, which showed Trump trailing Biden by 17 points among likely voters in the state, 57%-40%.
Reminder: we are just six days from election day.
Trump predicts he will 'over-perform' in election as he trails in polls
Trump predicted he would "over-perform" on election day, as polls show him trailing nationally and in key battleground states like Michigan, Pennsylvania and Wisconsin.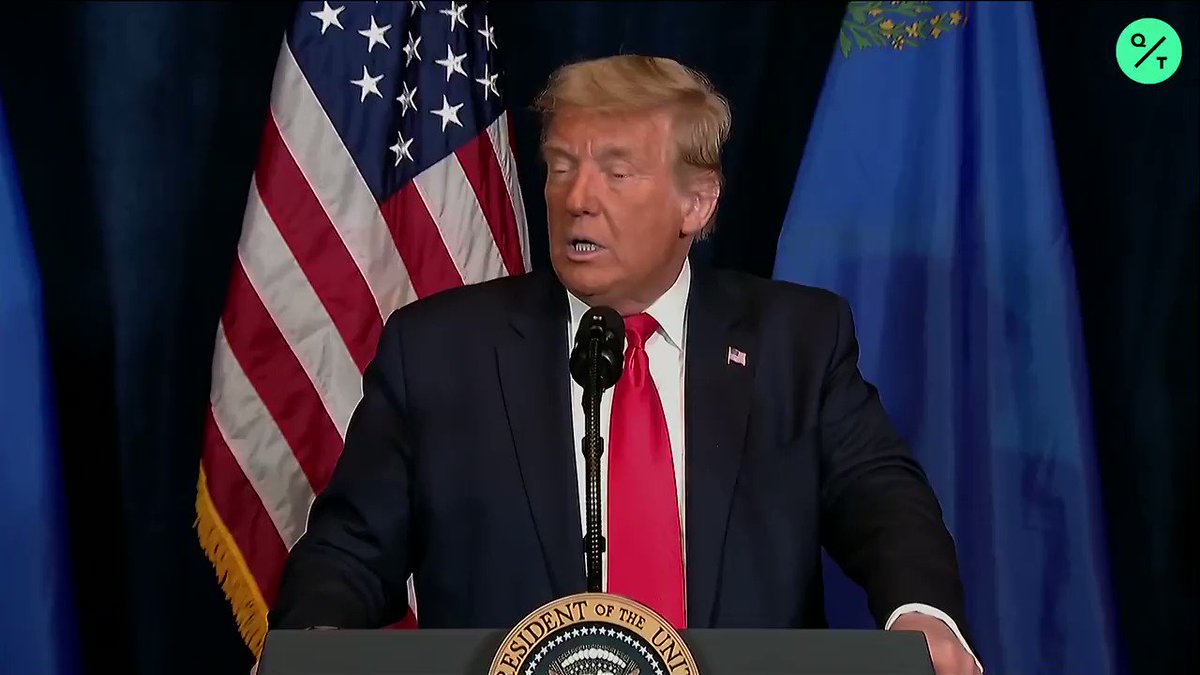 "I'm calling it a 'great red wave,' and I think you're going to see something that's going to be amazing," Trump said at his press conference in Las Vegas.
"I think on Tuesday, we're going to over-perform," the president added.
FiveThirtyEight currently gives Trump a 12% chance of winning reelection, and the president is trailing Biden in national polls by an average of about 9 points.
Trump is now holding a press conference at his Las Vegas hotel, before he heads to Arizona for two campaign rallies today.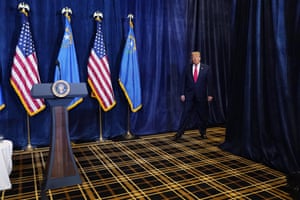 The president used the unexpected press conference to spotlight endorsements from several Nevada business groups, such as the Nevada Trucking Association and the Retail Association of Nevada.
Trump also took the opportunity to dispute a new Washington Post-ABC News poll that showed him trailing Biden by 17 points among likely voters in Wisconsin, 57%-40%.
The president claimed he had an internal poll showing him leading by 1 point in Wisconsin. The FiveThirtyEight polling average of Wisconsin shows Biden up by about 8 points.