Celtics' Jaylen Brown
On Ime Udoka Scandal …
'Shocked' & 'Confused' Over It All
Celtics star Jaylen Brown admits he was blindsided by the allegations against Boston head coach Ime Udoka … saying he was both "shocked" and "confused" over it all.
Brown made the revelation after he was asked by reporters at the team's media day on Monday what his reaction was when he found out Udoka had been accused of having a consensual relationship with a female Celtics staffer — all allegedly while he was still dating Nia Long.
"My initial reaction, we were all shocked at what was going on," Brown said … before adding, "A little confused a little bit, but a lot of information wasn't being shared with us."
Brown — who's been with the Celtics the last six seasons — said there have been no conversations between him and Udoka since the coach was suspended for the scandal.
Jayson Tatum also spoke about Udoka and the season-long suspension levied against the C's head man … calling it "a lot to process."
"Coming into this season," the star wing said, "you feel a certain way, and coming off last year, you're excited. Trying to do all these things."
"Along with everyone else, just still trying to process it all, knowing we start practice tomorrow."
NBC Sports Boston reporter Amanda Pflugrad also called out the Celtics at the start of Monday's event … as well as the social media users who posted the names of female employees to speculate on the identity of the staffer.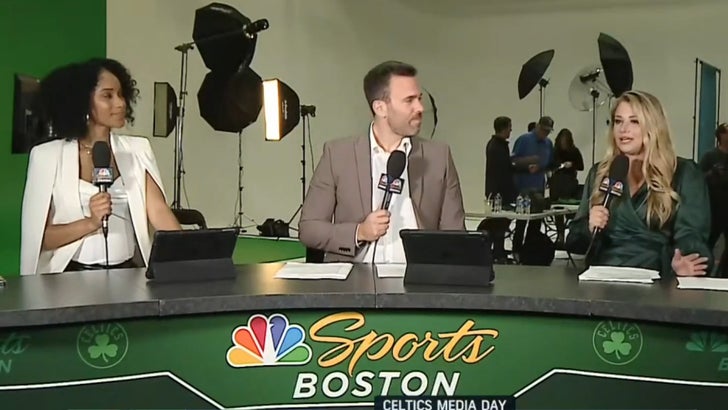 Boston Celtics
"Every woman in our organization has worked extremely hard to get where she is at, and she deserves and earns everything that she has right now," she said. "For things in the Celtics, and what we're doing moving forward, things do need to change. You need to stand up, support us and hear us."
Udoka, who led the Celtics to the NBA Finals this past season, will be out for the entire 2022-23 season … and team owner Wyc Grousbeck said last week the suspension could go on even longer than that.